Maia Mariner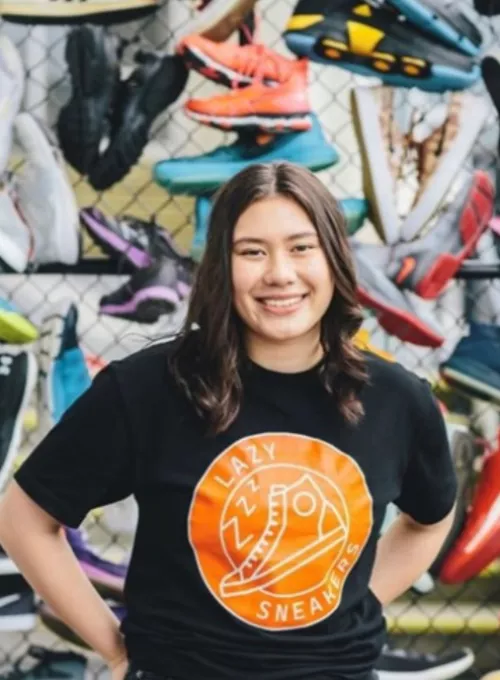 Maia Mariner founded Lazy Sneakers, a not-for-profit organisation that collects and redistributes reusable sneakers for free. Maia is just 18. She came up with this idea at 12 and has enabled tamariki to participate in sports and other activities across Pōneke and around the country with a simple pair of shoes. She became one of the country's youngest entrepreneurs.
From size 18-plus basketball kicks to a styley pair of chucks, this kōhine is changing lives by collecting new and old trainers and distributing them to rangatahi who need them. As a result, over 10,000 rangatahi across Aotearoa have been able to play sports, train, participate in team games, and be active because of one young woman.
Because of her age, people have judged her, but that doesn't stop her from pursuing her goals. She has been running the sneaker bank project for almost six years now. Social media is a big platform used to spread their message, and she works closely with schools, community groups, and basketball and sports associations. The award-winning scheme has since been noticed by Puma, and Mariner says they are working in partnership. They reached out to her, which was massive and impressive. Puma is one of their biggest supporters, alongside the Accent Group and a number of sports clubs and gyms.
Mariner played basketball, netball and volleyball growing up and made basketball rep teams for Wellington and the New Zealand U14 team in 2018. She's pausing team sports this year because of her studies but still keeps active through walks and attending the gym.
Team sport has allowed Mariner to find community and keep physically and mentally healthy - something she hopes to pass on to as many young people as possible through Lazy Sneakers. 
Mariner started up Lazy Sneakers early in 2018 after seeing her peers at basketball training who couldn't participate because they didn't have the right footwear. Now, she's set up collection points around the country for people to donate their unwanted (lazy) sneakers, and they can go to young people who want to play, participate and reach their potential.
From a young age, Mariner was taught to give back to her community, inspired by her role models, her grandmothers. 
2023 has seen Maia leave Wellington for Auckland and begin studying law and film at Auckland University Waipapa Taumata Rau. We wish her well in her tertiary studies. Kia kaha tonu e Maia.
Related links: