Dr Tapekaoterangi Hakopa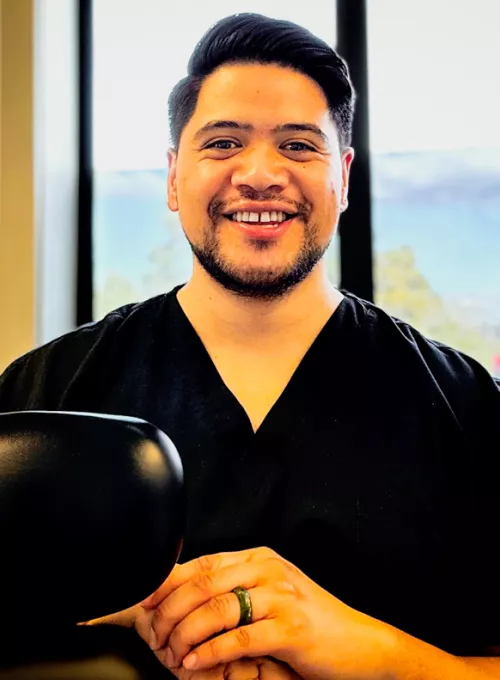 Dr Tapekaoterangi Hakopa is a Māori leader with an unwavering desire to improve Māori Oral Health within communities throughout Aotearoa is inspiring and commendable.  Tapeka is dedicated to creating a safe and comfortable environment for individuals who visit his dental practice.
Tapeka obtained a bachelor's degree in dental surgery and anatomy from the University of Otago. After completing his studies, he and his whānau moved to the Bay of Plenty, where he now practices at Baywide Smile on Cameron in Tauranga.
Tapeka's passion for advancing Māori oral health is palpable and deeply rooted in a profound understanding of the significance of oral health within Māori culture. One of Tapeka's key aspects of his work involves emphasising the impact of oral health on one's overall well-being. He hopes to shift perspectives and motivate individuals to take charge of their oral hygiene by highlighting the intricate connection between oral health and systemic health.
One of Tapeka's distinctive strengths lies in his ability to build whakawhanaungatanga with patients and whanau and comfort those with severe dental anxiety. He recognises the invaluable wisdom and cultural insights that both the Iwi and Hapu communities hold and actively seeks their guidance in tailoring oral health solutions that are both culturally sensitive and effective.
Furthermore, Tapeka's dedication extends beyond immediate interventions. As a previous executive member of Nga Mokai o Nga Whetu, the Māori Dental Student Association, he has invested his time and energy in fostering the next generation of oral health professionals. His mentorship is characterised by a genuine desire to see his peers succeed and a commitment to upholding the values and traditions integral to Māori oral health practices.
Tapeka's involvement in Te Ao Mārama, the New Zealand Māori Dental Association and his desire to collaborate with local Iwi and Hapū speaks volumes about his determination to effect change on a broader scale. He hopes to contribute to developing and implementing policies and programs to elevate Māori oral health outcomes. 
In summary, Tapeka's exceptional dedication, understanding of cultural sensitivity, and collaborative approach position him as a future Māori leader. His efforts to enhance Māori oral health testify to his character, and I do not doubt that he will continue to inspire and lead.
Links:
'Strong positive growth' seen in Summer School
RSA acknowledges volunteer support