Wikepa Keelan

Ngāti Porou, Ngāti Kahungungu, Rongomaiwahine
Wikepa Keelan was raised by his grandparents in Ruatorea. Although quiet and unassuming in his early life, his leadership attributes became apparent once he started working in health. Until 2016 he was the Chief Advisor Māori Health within the Ministry of Health for over 16 years, prior to that he was the Chair of Te Tumu Whakarae (the national DHB Māori GMs group), GM Māori at Hawkes Bay DHB, the lead Māori Quality Health Surveyor with New Zealand Council of Health Care Standards, Board member of Quality Health NZ, Community Mental Health Services Manager for Auckland Healthcare, Māori Mental Health Service Manager for Auckland Healthcare, Assistant General Manager for West Coast Mental Health Services in Wellington, Senior Advisor (Māori) Disability Services at the Ministry of Health, Manager Mental Health Services at the Ministry of Health, Community Mental Health Services Manager for Manawatu Whanganui Area Health Board, and, a Psychiatric Nurse at Lake Alice and Porirua Hospitals. He was also the establishing Chair of Horouta marae in Porirua in the 1990s. 
Driving quality improvement for Maori is the hallmark of Wikepa's presence in any kaupapa. He is currently providing Māori health expertise, leadership, and guidance to the Health Safety and Quality Commission, the Ministry of Health (Te Matanga Mauri Ora) and the Royal Australian and New Zealand College of Psychiatrists. He is also a member of the Māori governance group of the Health Quality and Safety Commission. When time permits, he provides health consultancy services aimed at improving the quality of health services for Māori.  He lives in Gisborne with his wife, Nicola Ehau-Keelan.
Notwithstanding his successful career as a leader in Māori Health, Wikepa is held in the highest respect and love by his children and whānau.  He is a stabilising presence, a reference point, a rock. He has mastered the delicate balance of impelling and empowering people to stand on their own two feet not only when things are going well but also during the most difficult moments in life. 
His blend of intelligence, discipline and determination is underpinned by aroha, pono and tika.  Wikepa inspires those around him to bring their potential to fruition, and throughout his career, he has guided many toward service to our people, success and achievement. As his daughter and someone who has benefited from his close mentoring over many years, I took the opportunity to put some questions to him to help to illuminate his journey as a leader.
My questions and his answers are provided below.
What has shaped you as a leader?
What is it that shapes anyone? Your whānau and culture, your beliefs and commitments. The things that you dreamed about and hope for! There was a time when we doubted that kaupapa Māori health approaches and services would ever be and that wasn't very long ago!
Is what shapes you about everything you do or don't do? Your whānau. Your intelligence, resilience and willingness to learn from mistakes. Your willingness to take risks. Your determination to step up without compunction and do that which needs to be done. So the list goes on. These are just some of the elements at play whenever I think about my role as a leader in health. There are many more as you know. Things like strength to hold the line and having the courage to maintain your beliefs no matter the obstacles. About knowing when and how far to bend without losing sight of the goal or losing too much. This last one is probably the most difficult to judge and difficult to place value on against the others I've mentioned.
I have a base of principles that underpin my leadership framework. I may have already told you about them. It became the benchmark for all of my work in the health sector no matter the circumstances, and generally, these principles have served me well throughout my life. They were given to me by Papa Claude, my dad as I was leaving the old house in Whakapaurangi and setting out on my new life in the big smoke. Wellington! He called me to his room. "E Wi"! "Kei te haere koe"?  "Yes," I replied. "Anei taku kōrero kia koe e Wi, whakarongo mai. He began giving me some advice. I didn't know at the time, but it was advice that would serve me the distance of my future career. I also didn't know at the time that I would have a long career in the health sector. He said, " Kaua e wareware no hea koe! Kaua e wareware he Kirena koe! Kia tōtika to mau i to tātou ingoa". His last korero in the actual bedroom was stated with emphasis, he looked at me and said "kia u, kia mau koe ki tō Māoritanga e Wi." My brother Hoki was with me, and we began to step out the back door of the old place. I heard the old papa call out, " Kaua maumau o hereni i te kai waipiro but if you want to drink and be an idiot you'll be an idiot"! We had a giggle about that one.
So I guess the person who really shaped me was papa Claude who gave me these simple maxims for life:
Kaua e wareware no hea koe!
Never forget where you come from!
Kaua e wareware he Kirena koe. Kia tōtika to mau i to tātou ingoa!
Never forget you're a Keelan so uphold our name!
Kia u, kia mau koe ki tō Māoritanga e Wi!
Wi, be honest and true and uphold our Māoriness and things Māori!
Kaua maumau o hereni i te kai waipiro!
Go easy on the alcohol!
Everything that I've ever done in the health and disability sector has been measured against these maxims, and they've kept me pretty much in sync with things Māori.
Beyond Claude would be our whānau. For example, your papa Api was a church leader in our Te Tairawhiti communities from Tokomaru Bay to Whangara. Papa Api was the church leader in that area after hours was his secondary job. As you know his Monday to Friday job was as overseer for the Ministry of Works from Tokomaru Bay to Whangara. We had hard working uncles and aunts who brought me as well as the rest of the kids from Te Aitanga a Mate through our local education programme at our local schools. But no matter what our whānau were working at they gave it their best shot. There are sayings in our whānau which most of my generation growing up tried to match, to live by, like: "Keelan's can drive any machine" or "Keelan's – buggers to work". These might be lost on the most recent generations– ha ha! But our generation tried to live their lives according to those whānau sayings.
Who are your role models?
As I said earlier, the role models that impressed me begin and end with our whānau, seriously. Although I never thought I would say this when younger but I'm almost at the end of my working life and past the age of retirement. When I think about this question, our whānau models are the only ones that come to mind. First, there's Claude who I put way out front, next would have to be my brother Chas. He was one year older than me, but he always had my back and went to work to help with the bills as well as pay for my education. There were my sisters Julia and Violet who always made sure I was safe. Following them, Hopa and Boy Keelan and their sisters Lil and Mana, all respected school teachers. They were like parents and like my siblings they were part of my "go to" primary support system. There are many positive examples of models in our whānau. Many volunteered for the armed forces during the first and second World wars and for the wars that followed those. These are the people who taught us the value of hard physical work. They had a strong sense of pride in doing things right and getting the work done. Hard work was something I saw and repeatedly understood as a young man growing up in my whānau.
All my role models are Māori. They would not be anyone from another culture because I simply have never been impressed by anyone of that ilk, neither have I been given good reasons for trusting them. Especially those who have colonial roots. I have no respect for them at all, just as they have no respect for us so obvious in their treatment of us in the health sector as evidenced by the health indices and their lack of positive action to right those disparities. No! They would never be my role models. Lastly, there would have to be my three children. Their work in their different occupations always inspire me to do better, but I guess that's what whānau is all about.
What drove you, drives you?
The early drivers were whānau influences exerted on me during the first 17 years of my life. It all sat very quietly inside of me for a further 20 years. There were also drivers from the new world that I had committed to in terms of my career pathway — that of health. My time was dominated by learning more about Western culture and how to be successful in it. Furthermore, I hated the idea of returning to Te Tairawhiti as others before me had done having failed. There was this great big world to explore, and I wanted it. My first step was to attain a national nursing qualification and having achieved that I was on the bottom rung of the professional employment ladder. Money was also an important factor, and I was earning quite a lot for a young Māori male.
In 1979 I attended the Auckland Technical Institute (ATI) to complete a postgraduate nursing education programme. 1979 was one of those watershed years for me. There were various events taking place around the country and led by Māori which were beginning to return me to thoughts placed earlier by papa Claude. There was Eva Rickard and the Raglan Golf Course, Bastion Point and Joe Hawke. Earlier was the Māori land march led by Whina Cooper in 1975. The engineering students haka at Auckland University are ridiculing Māori. Māori had had enough. Standing against ridicule was the beginning of the Māori renaissance, the Māori revival and I was right in the middle of it. I was strongly aligned personally with these events and joined to support the kaupapa.
I was so unimpressive as a teenager. But I guess old Claude saw something in me and invested a part of his matauranga in me. He planted a seed for responding to situations of unfairness especially where Māori was concerned. Anyway, I found myself reacting to the bias and racism that I encountered articulately and other Māori people in health of that time were drawn in. They were seeking leaders. It wasn't long before we had a strong following locally and nationally particularly in mental health services. As I said, I found my brain and my voice and connected those back to the learnings, the framework that had laid dormant since I left home. When I think about it now, I am amazed. Perhaps it was planned, or maybe papa just put it out there like a seed and just hoped for the best. It was like a time capsule.  I didn't think for a moment our whānau was instilling in me a system to live well by, that I had been internalising lessons for building determination and resilience. I wish my children and grandchildren could access that kind of whānau cultural environment, like a child raised by the village. But it's lost for now. It is a way to live and move forward despite what life sends your way, how to face up to life and shake your fist at it when it simply pisses you off! My whānau is what drove me then and still drives me now.
What will be your legacy?
My legacy is our work across the health sector. Success is debatable given the will of the mainstream that prevents having effectively functioning Māori models for health. It's drip feeding of these programmes to the extent of 1.6 % or so of the total health budget while the rest of the budget perpetuates the dominant population model which continues to produce disparities for Māori. Unfortunately, we lack critical mass in this country, and so our initiatives are very much at the whim of the Pākehā political and economic majority, and, until that changes or they grow an equity compass and a real sense of professionalism, we will be behind the red ball.
My legacy is three successful children who are too different degrees committed to things Māori. I would love to leave them the maxims left by Papa Claude.  And in time they will develop their own.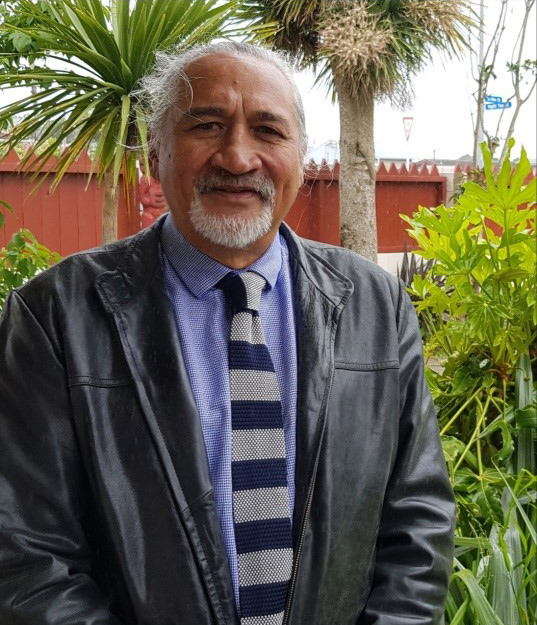 Profile by:
Tricia Keelan, Ngāti Porou | Ngāti Kahungunu | Rongomaiwahine, General Manager Māori Health Gain and Development, Bay of Plenty District Health Board. Supported by Bill Keelan (Colonel, New Zealand Army) and Taina Keelan (Music Artist and Mentor).