Hinewirangi Kohu-Morgan

Ngāti Ranginui, Ngāti Kahungunu, Ngāti Kahu
I first met Hinewirangi thirty years ago at a Waitangi Day march to Gate Pā. She wore a flowing gown and had the start of what became her feature, long grey dreadlocks. Few people could command a presence in a crowded room the way Hinewirangi did and continues to do today.
We met again when Hinewirangi opened the Māori Women's Centre in Kirikiriroa and then during her work in Women's Refuge, Te Kakano O Te Whānau – Rape Crisis, as a writer, poet and storyteller, wahine toa (warrior female) for mana wahine (female power) and mana tangata, (authority of people) on land marches and as a traditional rights activist.
For decades Hinewirangi has represented us on international indigenous committees, anti-nuclear forums and environmental protection action movements. She contributes colour and context to the lives of many including co-writing then presenting Mauri Tū Pae (kaupapa Māori based group rehabilitative programme) to Māori men in State prisons.
Hinewirangi is a natural and compulsive teacher. I cannot adequately describe how unique and gifted she is across a broad spectrum of skills and knowledge. Her life is art; she draws out the beauty she sees in inanimate objects and weaves stories of whakapapa and continuity, the interdependence and connectedness between spiritual and earthly, the love she has for humanity our strengths and our frailty.
Hinewirangi speaks of her passion for learning while gifting her knowledge to all who wish to learn and understand.  She embraces every conversation or meeting as an opportunity to understand something new, to see things from a different perspective and to challenge her perceptions. At the beautiful age of seventy plus she has set herself another challenge, and although she could be gifted an honorary doctorate, Hinewirangi has decided to do the hard yards and is currently completing her PhD studies.
Hinewirangi provides us with a true example of mana motuhake, doing things her way with pure passion and self-determination. I feel honoured to have Ms Hinewirangi Kohu-Morgan as a close and dear friend.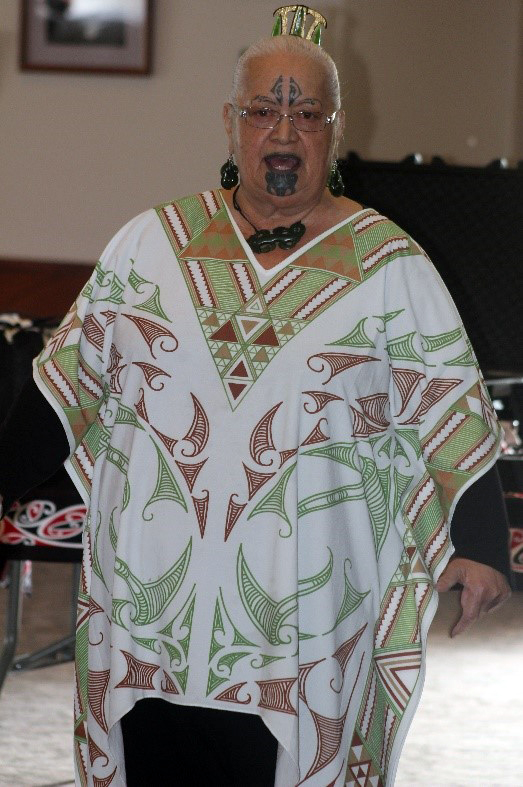 Profile by:
Roma Balzer, Ngāi Te Rangi, Te Arawa, Te Rūnanga o Kirikiriroa