Gwen Tepania-Palmer

Te Aupōuri, Ngāti Kahu, Ngāti Paoa Tainui
Gwen Tepania-Palmer has been an outstanding leader and champion of Māori Health for many years. It is my absolute pleasure to provide this kōrero about our whaea Gwen Tepania Palmer. Initially trained as a registered nurse, she went on to play a pivotal role in the development of Māori Health providers in the 1990s as part of her work with the funding authorities at the time. As part of this initiative, many Māori providers came into existence and were funded to deliver by Māori for Māori services to our people. This change was instrumental in creating capacity and capability across the health sector. It also led to the development of much-needed health services directing to our people. In more recent years she has held senior governance roles across a range of significant healthcare bodies including:
• Waitemata District Health Board, 2007-2016
• Auckland District Health Board, 2010 to present
• National Health Committee
• Manawa Health Primary Health Organisation
• Ngāti Hine Health Trust (where Gwen is Chairperson)
• Health Quality and Safety Commission, 2014 to present
Between January 2018 to June 2018, Gwen was also the interim Chair of Auckland District Health Board.
In these governance roles, Gwen has been a powerful force for change championing Māori health developments and overseeing sustained change and responsiveness of large providers.
In addition to Gwen's nursing qualifications, she also holds a Master of Business Administration, Certificate in Health Economics and a Certificate in Company Direction from the Institute of Directors in New Zealand (inc).
Gwen is passionate about Māori Health Gain. She has been pivotal to the development of many significant Māori Health initiatives over the years. Her steadfast commitment has continued over three decades as she endeavours to serve both her hapū and the wider Māori community.
Finally, I would like to acknowledge Gwen's integrity, her compassion and her drive to always do her best for both and the many organisations she partners with and also her unfailing commitment to Māori health.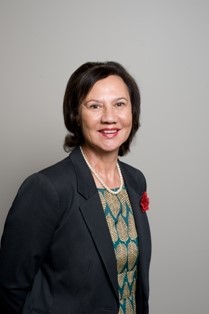 Profile by:
Dr Dale Bramley, Ngā Puhi, Ngāti Hine, Whānau-ā-Apānui, Chief Executive Officer Waitemata District Health Board